Parastar Plus is a monthly topical product we recommend for dogs who are in tick dense areas. It is applied on the skin between the shoulder blades and kills ticks and only adult fleas, not larvae and eggs, in less than an hour. It also kills chewing lice and sarcoptic mange mites. Weight ranges are: 0 to 22 pounds, 23 to 44 pounds, 45 to 88 pounds, and 89 to 132 pounds. THIS PRODUCT IS FOR DOGS 12 WEEKS OR OLDER ONLY.
Heartgard Plus is a monthly chewable used to prevent heartworm disease. It also treats and controls hookworms and roundworms. Weight ranges for dogs are: up to 25 pounds, 26 to 50 pounds, and 51 to 100 pounds. If your dog is over 100 pounds, we will give you the approprate dosing using two different weight ranges that are given at the same time. We recommend using Heartgard Plus year round.
Dasuquin is a joint health supplement containing glucosamine and chondroitin sulfate, along with other ingredients shown to support cartilage production and protect cartilage from breaking down. It can improve joint function and give comfort. This product can be used as a protective measure also. Our veterinarians may suggest this product if you are noticing your dog having difficulty standing up, climbing stairs, jumping, or walking speed decreases during walks. They can also explain the difference between this product and other joint aid products. The effects of Dasuquin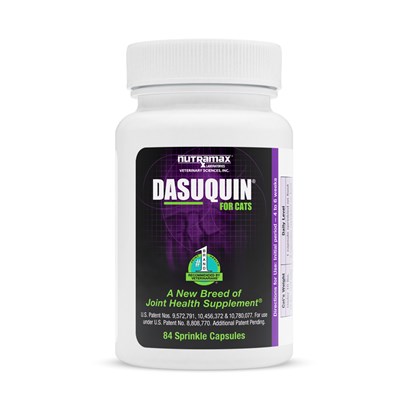 might not be noticed for 4 to 6 weeks. Sizes are Small to Medium dogs up to 60 pounds, Large dogs 60 pounds and over, and capsules for cats. The Dasuquin for dogs come in chewable tablets or soft chews. The tablets come in bottles with either 84 or 150 tablets and the soft chews come in 84 count bags. A loading dose is required, followed by maintenance dosing. The directions for your pet's weight are on the packaging. Dasuquin also comes with MSM. We carry Dasuquin with MSM at our clinic.
Crananidin is a cranberry extract which helps support urinary tract health in dogs. It contains PAC's which work to help keep certain bacterica from attaching to the inner lining of the bladder allowing the bacteria to be flushed out in the urine.